Thursday, September 6, 2018
 NE CASC Postdoctoral Fellow Valerie Pasquarella works with a mindset of committing science to action. "It's the way I was raised" Val jokes, referring to her approach to her studies in her remote sensing and ecology. Spatial datasets she has developed from historic maps and time-series satellite imagery has been used for modeling species distribution, tracking foresting disturbances, and monitoring the extent and ecological impacts of invasive species outbreaks including the gypsy moth epidemic that began in 2015-2016.  Always with an eye on the future, Valerie strives to foster iterative local stakeholder engagement in the mapping and analysis process, adapting and evolving to the needs of the people she works with. She "listens to what people in the area are missing" she says, and then partners with them to create it. During development, she fosters effective collaborative communication about the project, always striving towards a better understanding of the needs those using her efforts on the ground. "You need to know a place," Val comments. Her research has always included dialogue about field assessment with collaborators and working towards pairing map products with new questions.
   Valerie discovered her passion for linking remote sensing and ecology working with spatial data as an undergraduate at Boston University, and by end of her first course in GIS she was "smitten," she says.  Since then her commitment to developing freely available, community-driven datasets has only flourished and her drive for building collaborative partnerships made her a highly sought-after ally among local scientists.
    One project that showcases this is her work with Mass Audubon's Losing Ground: Planning for Resilience publication. This Mass Audubon publication is a comprehensive assessment report of 'the pace and patterns of land development and land protection' (Losing Ground webpage) and it is an essential resource for Massachusetts conversation practitioners. Though previous Losing Ground analyses relied on state-produced land cover layers, at the time of the 5th edition, no updated layers were available, and Mass Audubon was searching for another way to develop the data they needed. Working with Jeff Collins, Director of Conservation Science for the organization, she and her colleagues at Boston University stepped in to cover the gap and provide the Landsat-based land cover and land-cover change data essential to their central analysis.
  As part of her ongoing collaboration with the Mass Audubon, Valerie has worked with the Broadmoor Wildlife Sanctuary to document changes in and around the sanctuary using time-lapsed imagery. Elissa Landre, Sanctuary Director at Broadmoor described the experience:"Val saw that her academic institution had resources our non-profit did not, and connected us to those resources to produce updated maps.  She is an amazing networker and demonstrated the synergy of academic-non-profit partnerships." Landre goes on to describe the benefits of the collaboration with Valerie, adding "she sees many opportunities to engage students in studying questions of use to land managers.  In turn, land managers like Mass Audubon can provide direct experience in nature so often lacking in many academic communities."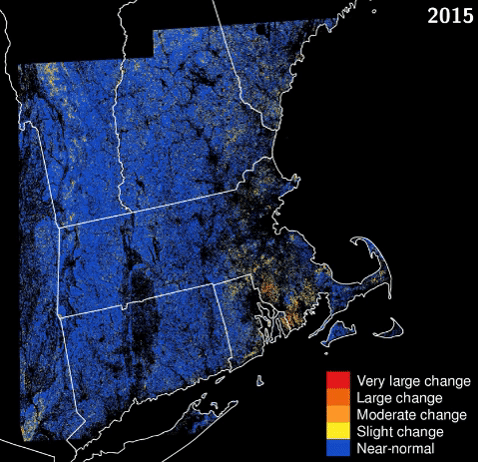 Valerie continues to collaborate with Mass Audubon on various projects at Broadmoor and across the network of Mass Audubon properties, and she and colleagues are expecting to partner with Mass Audubon again for Losing Ground (Sixth Edition). She is already planning to integrate the feedback from the last edition to provide improved land cover and land cover change information tailored to local stakeholders needs.  While discussing the value of a collaborative approach, she emphasizes the importance of pairing strengths with needs, and how she aligns her expertise in mapping and place-based ecology with a partner's ability validate her maps or build model forecasts based on her data.  She says, "We are all so diverse, so it's better to work together."
Read more about Valerie here-->>      
Learn more about Losing Ground here-->>     
Other NE CASC projects featuring Valerie Pasquarella-->>  
Written by Communications Intern Mike Crowley